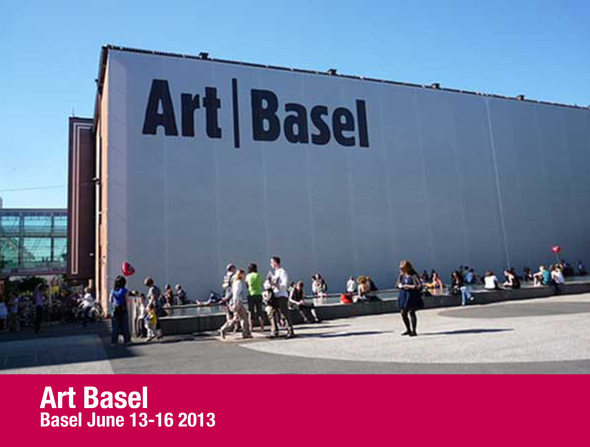 Announcing Art Basel 2013
Art 44 Basel, the world's premier international art show for Modern and Contemporary works, held from June 13 – 16, 2013, features nearly 300 leading galleries from North America, Latin America, Europe, Asia and Africa. More than 2,500 artists, ranging from the great masters of Modern art to the latest generation of emerging stars, are represented in the show's multiple sections. The exhibition includes the highest-quality paintings, sculptures, drawings, installations, photographs, video and editioned works.
With its world-class museums, outdoor sculptures, theaters, concert halls, idyllic medieval old town and new buildings by leading architects, Basel ranks as a culture capital, and that cultural richness helps put the Art Basel week on the agenda for art lovers from all over the globe. During Art Basel, a fascinating atmosphere fills this traditional city, as the international art show is reinforced with exhibitions and events all over the region.
Take a closer look at http://www.artbasel.com/en/Basel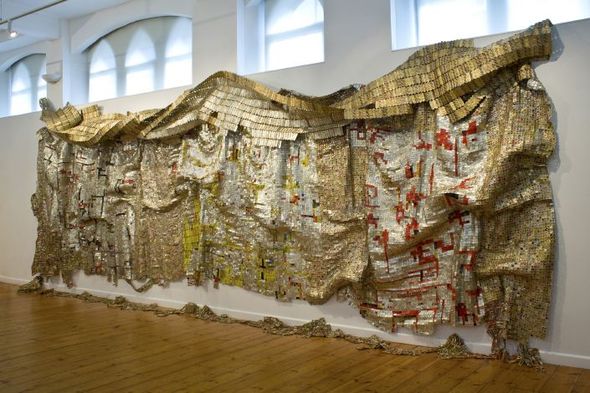 SCOPE-ing the Rhine 2013
Happily presenting the 7th SCOPE Basel in their new location: Klybeckquai, on the Rhine, a region simmering with emerging tastemakers of our generation. SCOPE is proudly featuring 75 international Exhibitors alongside 20 Breeder Program Galleries. SCOPE encourages it's visitors to engage with these cutting edge pieces in hopes that they too can participate in cultivating the future of contemporary art. Acclaimed for introducing the most innovative galleries, artists and curators, SCOPE Art Shows in Miami, Basel, New York, London and the Hamptons have aggregated an extensive critical acclaim and loyal following, with sales of over $450 million and attendance of over 700,000 visitors. In addition, SCOPE's Breeder Program will be celebrating it's 13th anniversary. Breeder's alumni include, but are not limited to: Peres Projects, John Connelly Presents, Galeria Enrique Guerrero, and Daniel Reich Gallery. SCOPE's opening day took place Monday, June 10th. The show will conclude on Sunday, June 16th.
To learn more and preview some of the main attractions visit: http://scope-art.com/shows/basel-2013/about/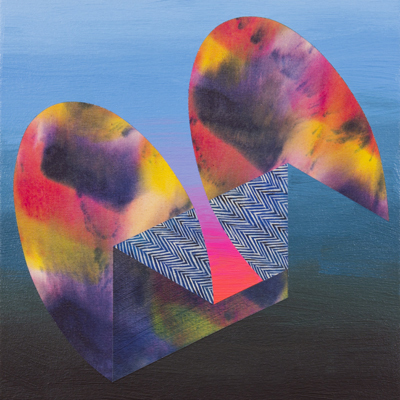 Upcoming Shows That Kick Some Ass!
HARD LINES / SOFT VIBES at Jeff Bailey Gallery in Chelsea.
Featuring: Louise Belcourt, Brian Scott Campbell, Erik Schoonebeek, Nichole van Beek
Opens June 27 - August 9, 2013
Jeff Bailey Gallery


Bodensee Some Art!
Art Bodensee is situated on The Rhine in an idyllic location. This annual art fair rests between Lake Constance and the cities of Innsbruck, Zurich, Munich, and Stuttgart. This conglomerate of diverse cultures and exquisite landscapes creates an incredibly charged space, where art of different national and international heritages converge. Prominent names and precocious new comers mingle at Art Bodensee, igniting discussions about where is art now and where is it going. In 2012, Art Bodensee welcomed 40 exhibitors and over 5000 guests. This hidden gem represents sculpture, painting, media, installation, and photography completed after 1960. Art Bodensee begins on July 12th, and concludes on July 14th.
FInd out how to get involved! http://artbodensee.messedornbirn.at/

There's Nothing Halfway about the Iowa Art Way
Des Moines, Iowa is quickly becoming a hot bed of cultural and artistic expression. Recently the winner of the Grand Pinnacle Award from the International & Events Association, and the Encore Award from Bravo Greater Des Moines, this arts fair is simply an event that cannot be missed this summer. Des Moines Arts Festival features up and coming and established artists from across the United States, illustrating that ground breaking art isn't only found on the island of Manhattan. In addition to being a platform for exhibiting galleries from around the U.S, Des Moines Art Festival proudly offers a taste of the future of music, film, and performing arts . The festival will take place on June 28th through June 30th 2013. Book your tickets now!
Discover more about Des Moines!
http://desmoinesartsfestival.org/featured_artist.php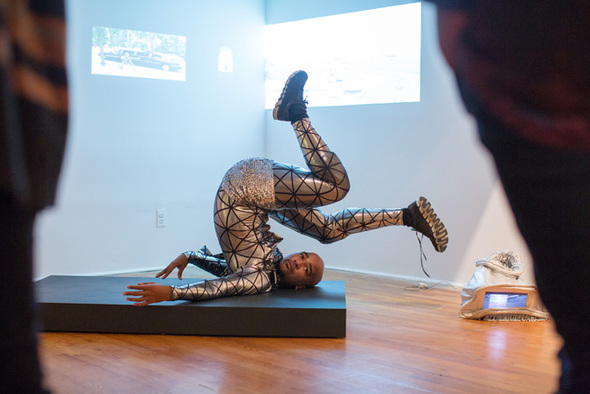 NY Arts Sneak Peek: 4o Don't Mean Shit.
We've trolled the muddy waters of the NYC Art scene, 8 fine members of our esteemed selection committee shining decisive beacons of light to guide our way. When we returned to port the whole boat was full of artists, half over 40, and half younger than 40. After looking closely at the compiled work we decided...well, shit - read for yourself:
Here's the full Article.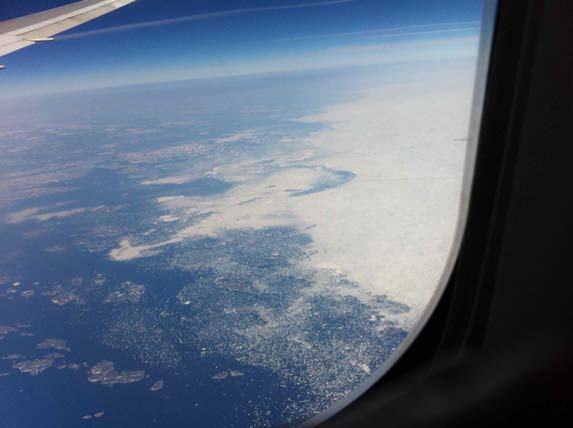 Swizerland to NYC and Back in a Flash:
Claudia Luthi's Pops in for an New York Minute.
Claudia Luthi is a Swiss artist whose work is currently on view at Broadway Gallery as a part of our Global Projects Series. She was kind enough to share with us her time spent in NYC in honor of her exhibition. Check it out!
Read More.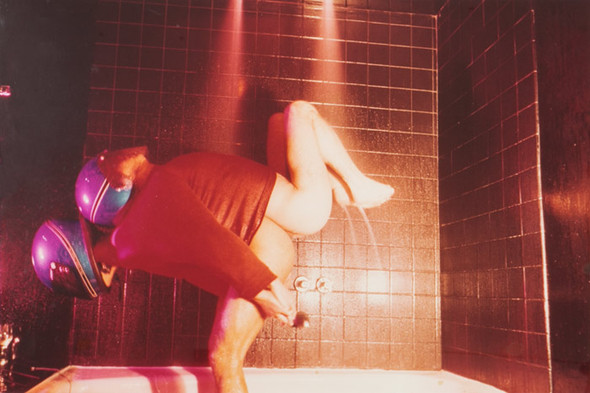 Strap on your Helmet and Join Us in the Tub.
On Friday, June 21st NY Arts Magazine attended the opening of Party Picks at Salon 94 Bowery, which encapsulates a dynamic selection of Jimmy DeSana's incredibly visceral oeuvre. DeSana is most well known for documentation of the New York punk scene and the celebrities that represent this aggressive, yet equally titillating cultural movement.
Read more...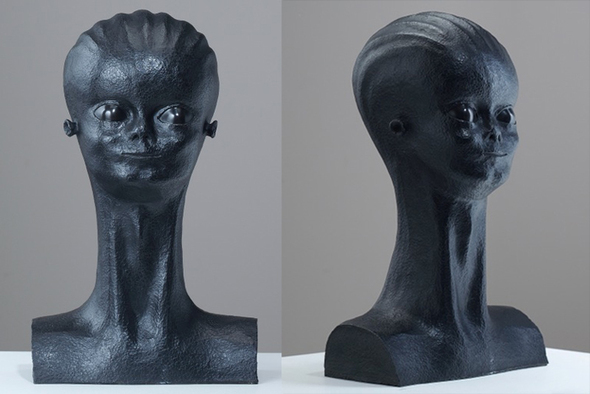 Robert Llimos, Bust in Bronze, 15 x 9.25 x 7.32 in. Courtesy of the artist.
NY Arts Has Intergalactic Friends
In front of me are two sculptures by Robert Llimos, of Alfa and Beta, a couple from the universe. These quasi-reptilian extraterrestrials constitute a unique "space-anthropological" reconstruction in painted terra cotta and bronze. The first impression is one of beauty and calm, the two beings looking thoughtful and intelligent with their elongated necks and big almond reptilian eyes. They have very small ears and no hair, a metallic tiara and scaly skin lending a quasi-aquatic countenance.
Read More
>
www.nyartsmagazine.com