NY Arts News
"When Madness Meets Hunger" at the Studio 26 Gallery (June 10-July 3, 2016)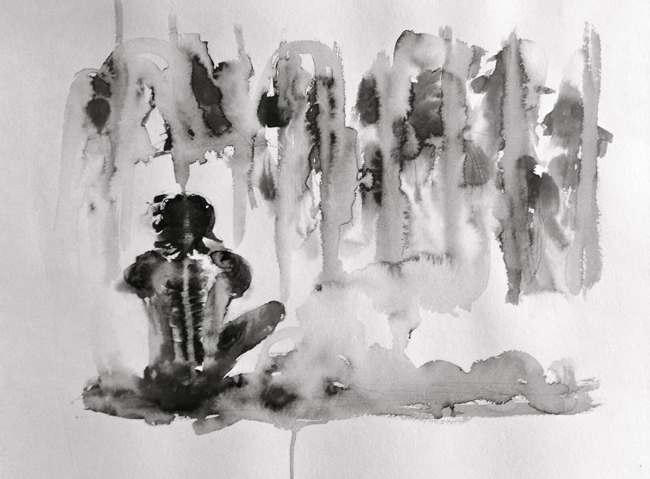 From the series: The Blind Owl Meets the Hunger Artist.
East Village's favorite
Studio 26 Gallery
which is located in the Eastvillager building on East 3rd St. between Avenues A and B, is exhibiting a spectacular series, "When Madness Meets Hunger," by artist Aphrodite Désirée Navab. Navab's latest work is an ongoing series of ink drawings where she imagines an invented encounter between the protagonist of Iranian writer Sadeq Hedayat's novella, The Blind Owl and the protagonist of Czech writer Franz Kafka's short story, "The Hunger Artist."
At the opening on June 10th, Navab gave an artist talk where she shared her concepts for this series, her artistic practice and creative process, and took questions from the audience: "I do weeks of research for my art, collecting primary sources," says Navab. "For this series, I re-read Hedayat's novella The Blind Owl, and I re-read Kafka's "The Hunger Artist." I read secondary sources, examining and critiquing their work. I read historical sources on the Czech republic and Austria during Kafka's time and Iran during Hedayat's time, then researched the internet for photographs of the writers from birth until death…It is no accident that Hedayat translated several of Kafka's works into Farsi." Metaphors, allegories and themes are explored of the artists in voluntary exile, the nature of performance art, the real and the ideal, rituals of insanity, the existential crises of the artists and their autobiographical narratives. A video of the opening and artist talk will be released during this week.
The exhibition is on view until July 3rd. We encourage everyone who is visiting NYC or walking through the East village to visit this fascinating exhibition and see, closely, the work of Aphrodite Désirée Navab.
"Her art is the aching inquiry of an uprooted consciousness seeking new roots." – Collector of this series and NY Times #1 Best Seller author Reza Aslan of Zealot: The Life and Times of Jesus of Nazareth (2013).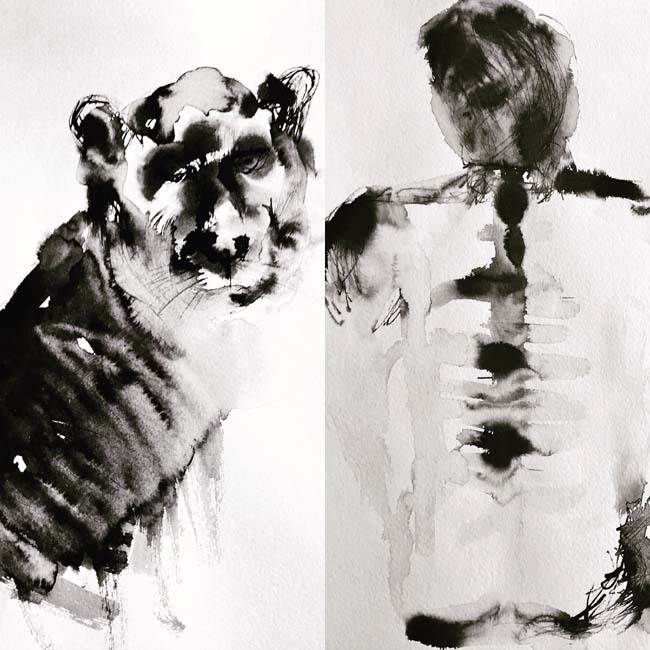 From the series: The Blind Owl Meets the Hunger Artist.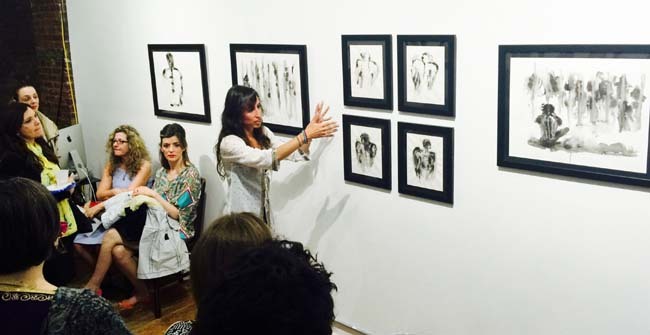 Aphrodite Désirée Navab giving an artist talk.
@ STUDIO 26 GALLERY, 179 East 3rd Street, New York, NY.
On view: June 8 — July 3, 2016.
Curated by Marika Maiorova.
et une sélection de précédents messages que je n'ai pas eu le temps de poster...
désolé si la date est passée

NY Arts News
Call the Bluff 3, 2016, Pencil, oil, gesso & wax on paper, 60 x 44 in | 152 x 112 cm . Courtesy of the artist.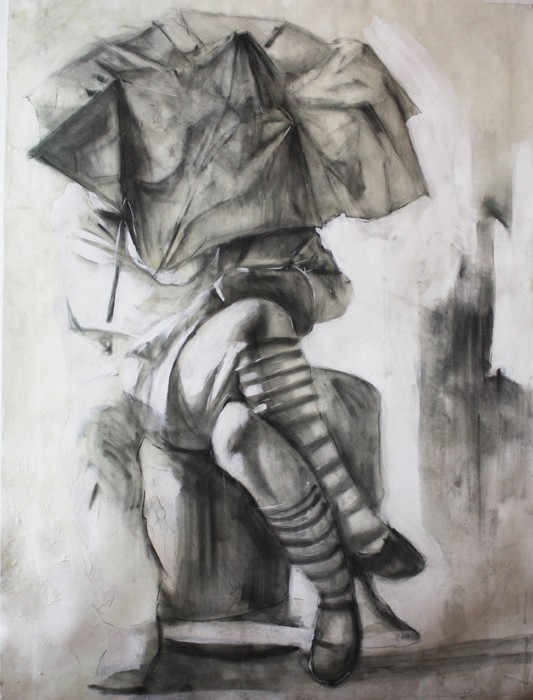 Call the Bluff 10, 2016, Pencil, oil, gesso & wax on paper, 60 x 44 in | 152 x 112 cm. Courtesy of the artist.
Beatrice Scaccia | Call the Bluff
May 5 – June 11, 2016
Aways interested on randomness and repetitivity, as an expression of human existentiality, Scaccia's most recent work develops her personal investigation of identity, awareness and inauthentic existence, displaying characters suspended in a state of indecision between the mutual interaction or resistance, frozen in the incompleteness of their actions.
Born and raised in a solid painting background, Scaccia's study of the human figures reports elements of Renaissance and late Eighteenth Century. A fragmented story emerges through the almost "frame by frame" sequence of Scaccia's work, expressing the idea that repetition can also create a sense of instability. In her work identities, genders and ages are lost behind oversized coats, striped patterns and futile but unavoidable and unpredictable movements.
Scaccia's work has often been described as " frames loaded with movement, coming from a missing film" and yet in these canvases, for the first time, there is a richer and more layered composition. It is like being in front of some overturned tableaux vivants where a group of overwhelmed performers are blocked in their movements and in their delusion-illusion of coexisting.
Through a fresh and original approach, Call the Bluff reveals the unsubstantial, the unreality, the vacuum, and the pantomime.
Paintings, drawings, sketches are accompanied by an installation of ceramics by Japanese artist Toshiaki Noda.
Learn More
Cara Gallery
508 West 24th Street
New York, NY 10011

NY Arts News
Eric Fischl A Woman Possessed, 1981 oil on canvas 68 x 96 inches (172.7 x 243.8 cm.). © Skarstedt Gallery, New York.
***
Eric Fischl: Rift Raft
Skarstedt is pleased to announce Rift Raft, Eric Fischl's first presentation of new work at its Upper East Side gallery (20 East 79th Street), on view till Saturday, June 25.
- More
***
Michael von Graffenried, Changing Rio
Known for his work on the civil war in Algeria and Sudan, his street installation for his
series on drug in Switzerland and the city of Varanasi in India, and more recently for his
series on the Oktoberfest in Munich (published as Bierfest by Steidl editions), Michael
von Graffenried had traveled all around the world with the exception of South America.
- More
***
NO IT IS ! William Kentridge
Exhibitions / Performances / Lectures South African William Kentridge is one of the most internationally significant contemporary artists. He is not just a visual artist but also a filmmaker, director and a great raconteur. His comprehensive body of works has spanned several artistic disciplines for more than three decades now.
- More

NY Arts News
Monthly Highlights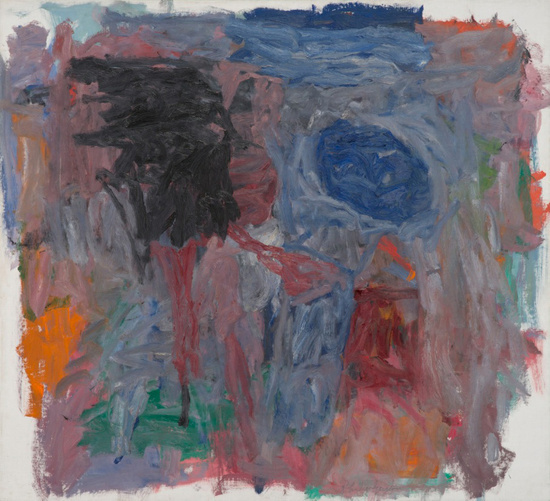 Alchemist, 1960 Oil on canvas 154.9 x 171 cm / 61 x 67 3/8 inches Blanton Museum of Art, The University of Texas at Austin, Gift of Mari and James A. Michener, 1968 Photo credit: Milli Apelgren. ©Hauser & Wirth New York
Philip Guston: Painter, 1957 – 1967
Hauser & Wirth New York
'I think a painter has two choices: he paints the world or himself. And I think the best painting that's done here is when he paints himself, and by himself I mean himself in this environment, in this total situation.'
– Philip Guston, 1960 -
read more